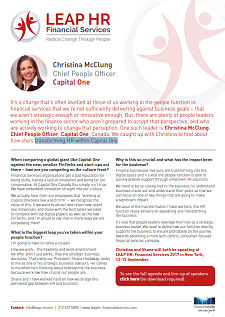 It's a charge that's often levelled at those of us working in the people function in financial services that we're not sufficiently delivering against business goals – that we aren't strategic enough or innovative enough. But, there are plenty of people leaders working in the finance sector who aren't prepared to accept that perspective, and who are actively working to change that perception. One such leader is

Christina McClung, Chief People Officer, Capital One

, Canada. We caught up with Christina to find about how she's transforming HR within Capital One.